The first phase of the project will start with the four selected products.
4 new products for 16 future technologists: the UniversityLab team, composed of food technologists specialists and professors from the University of Milan, in January selected the students of Master's Degree in Food Science and Technology participating in the current edition of the project, the second after the 2018 one. 
Among the many ideas presented, the 4 new products to be developed were identified and students were organized in as many working groups, each one guided by a tutor of the Opessi team.
Students are therefore ready for the first step, the development and definition of the recipe, 100% "homemade": each member of the team will carry out the first tests of the product to be created in the home kitchen.
In order to constantly discuss the development of the work, the members of the group will meet virtually with their tutor, supported by partners involved in the projects, who will immediately provide their contribution at a distance and who, hoping that the current health situation will soon return, will then carry out the production tests with students in their laboratories.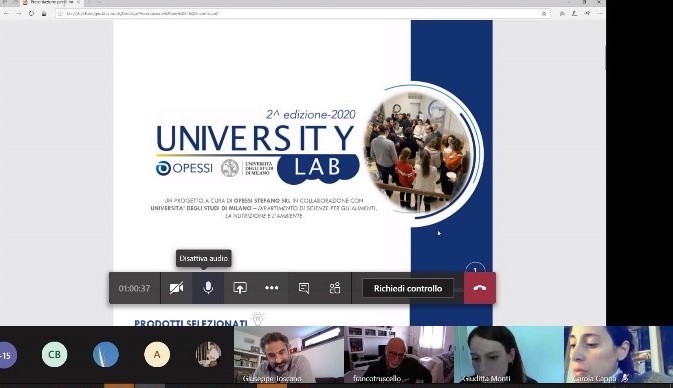 In the picture a moment of virtual meeting between UniversityLab team and students, in which the 4 products to be realized and the composition of the working groups were revealed.