Theegarten-Pactec
CHS, modular high-performance packaging system
The CHS modular packaging machine has been specially developed for packaging chocolate products and now achieves an output of up to 1,800 products per minute instead of the previous 1,200.
This is a particularly flexible machine: in fact, nine different types of folding are possible, such as double twist, protected twist, top twist, side twist, foil wrap, envelope fold, bottom fold, side fold and Viennese fruit fold. It is possible to quickly change wrapping type and format, by means of an operator, supported by user guidance system integrated into the machine and a lighting concept that illuminates the relevant areas of the machine.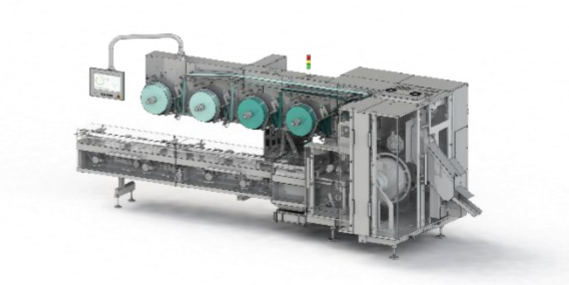 Thanks to its flexible structure, the machine is particularly suitable for different products and folding types that are in seasonal demand. This way, CHS enables high capacity utilization throughout the year, even with increasingly shorter product life cycles, thus ensuring a high level of investment security for buyers.
In terms of formats, product lengths were previously 16 to 45 mm, while the new system offers flexibility covering 16 to 60 mm. The width has also been changed – from 12 to 25 mm to 12 to 35 mm – increasing the application possibilities for customers
We are at your disposal for any further information, please refer to the contact page.
Theegarten-Pactec specializes in the design and construction of wrapping machines for small confectionery products. The company combines more than 20 different wrapping types with a wide range of performance. In addition to individual machines, the company also offers complete turnkey packaging lines. The following products can be packed or wrapped: hard candies, toffees, chewy sweets, chewing gums, chocolate products, and various other food and non-food products.
Read also:
Theegarten-Pactec develops sustainable sealing technology, ideal for chocolate products
www.opessi.it/nuova-tecnologia-di-saldatura-theegarten-pactec-per-prodotti-al-cioccolato/
Many reasons to choose a Theegarten packaging machine