Theegarten-Pactec: new sustainable sealing technology,
ideal for chocolate products
A European study on consumer preferences for packaging carried out in March 2020 revealed that almost 70% of respondents were actively trying to reduce the use of plastic packaging (Two Sides: "The Packaging Report 2020"). This has led to a corresponding interest to switch to sustainable materials such as recyclable mono-materials and to packaging processes developed specifically for these materials.
This is a switch that is challenging to implement, especially in the packaging of chocolate products, which requires technique and a careful choice of wrapping material.
Drawing on decades of experience, Theegarten-Pactec has now developed a special process called "suction supported sealing", which can be easily integrated into Theegarten-Pactec standard packaging machines. This not only allows chocolate products to be packaged more carefully, but also saves material to the benefit of the environment.
Suction supported sealing technology: how it works
As soon as the product reaches the sealing station, which is located after the wrapping one, the sealing tool moves to the product at a distance of 0.5 mm to 1 mm. Negative pressure then causes the package to be sucked onto the sealing stamp. In this way, there is no direct contact between the packaging and the product. The heat is distributed evenly over the entire surface, without applying excessive pressure or damage; active cooling of the environment also ensures additional product safety. 
 After sealing for approx. 50 – 60 milliseconds, the contact between the packaging material and the sealing jaw is terminated when the sealing stamp moves away – which may be assisted if required by switching off the vacuum. The packaging material detaches from the sealing station and once again rests directly on the chocolate product which has now been completely packed. The sealing seam only comes into contact with the product again after it has sufficiently cooled.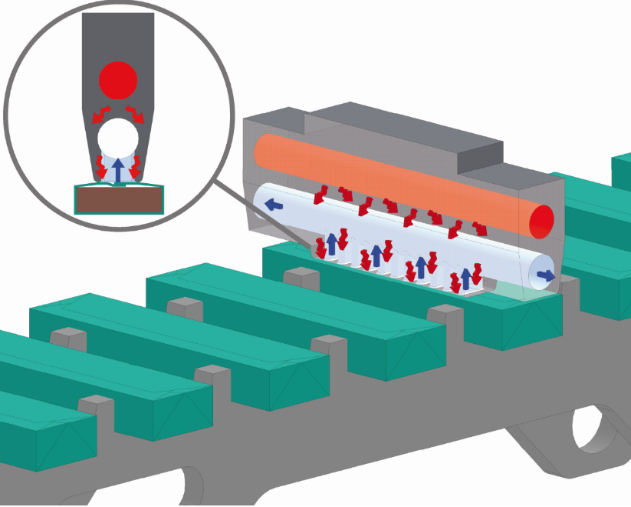 Sustainable alternative: material-saving, cost-reducing and environmentally friendly
Theegarten-Pactec's innovative technology offers numerous advantages: material costs can be reduced by eliminating the need for aluminium laminate to dissipate heat and protect the chocolate. At the same time, negative environmental influences caused by the production of the material are reduced. In addition, there is no need for an unwinding unit for aluminium paper or aluminium-PP composites in the packaging machine. This saves set-up and adjustment times and makes the packaging process more stable and therefore less susceptible to faults. In addition, there is no need to apply glue, thus reducing both machine cleaning and maintenance costs and the risk of product contamination.
Theegarten-Pactec therefore offers an alternative that is not only profitable in the long run, but also sustainable, optimally adapting to changing consumer behaviour.

 Theegarten-Pactec supports two industry sustainability initiatives: SAVE FOOD (www.save-food.org) set up by the Messe Düsseldorf Group, and Blue Competence (www.bluecompetence.net) set up by the VDMA (Verband Deutscher Maschinen- und Anlagenbau, German Engineering Association), Frankfurt
Visit the website https://www.theegarten-pactec.de/home and contact us for further information