Compact Grinding Plant UCOM for Icing Sugar.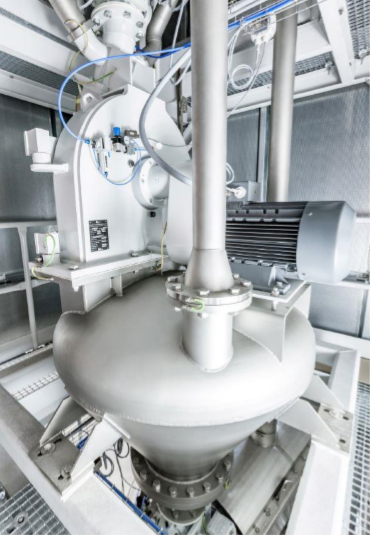 Conventional grinding plants to produce dry powders need several components in addition to the mill unit. These include, for example, a product feeder into the mill, a filter unit for the process air with the necessary piping and a fan. When grinding products with the risk of a dust explosion, additional components such as rotary valves, explosion-proof valves and rupture discs are necessary to be able to safely operate the grinding plant. 
The facility costs can be significantly reduced by the Bauermeister Compact Grinding Plant UCOM. Due to an internal air circulation in this unit a filter, fan and valves are not necessary. All UCOM plants are designed as pressure shock resistant execution units until a maximum overpressure up to 10 bar(g). A pressure sensor is installed inside UCOM circle. In the case of a dust explosion the rotary valves will stop, and the plant is disconnected from the downstream items. 
In addition, grinding processes introduce a certain amount of heat. If a lower product temperature is required a heat exchange system can be added as an option. In conventional plants the heat is discharged by the intake air and the ground product. In the UCOM unit air cooling is realized through a heat exchanger in the circulated air, cooled with water or other coolants. If a central coolant system is not available, the plant can additionally be equipped with a chiller unit. 
The product to be milled is fed into a hopper and then metered through a rotary valve and a magnetic separator in the universal mill. After grinding the product is discharged from the collecting hopper through a second rotary valve. The collecting hopper is designed as a gravity separator. The air flow, generated by the mill unit, transfers its excess heat in a double-walled heat exchanger to the coolant and returns via a circle pipe system into the mill. 
These compact grinding plants require an area of only a few square meters and can be fixed on a strong platform or steel construction. 
The UCOM plant has already proven useful in hygroscopic products such as sugar. Many units are used in the confectionery industry to produce icing sugar. 
Visit the website https://www.bauermeister.de/ and contact us for mor technical details.