COMEK
Packaging line for coffee beans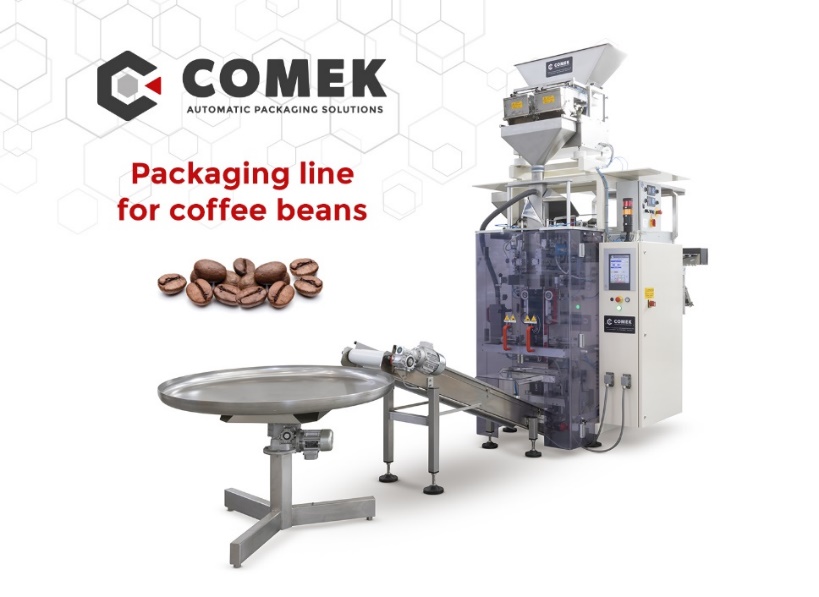 Safety and quality for coffee beans with the Comek line, consisting of the VPB 330 vertical packaging machine and the DIGILYNE 2T 2-head linear weigher.
The Comek coffee packaging machine guarantees both excellent sealing and elegant aesthetics. The coffee packaging line is capable of producing pillow, square-bottom and 4-seal square-bottom pouches, from 100 g up to 2.5 kg.
From the product's point of view, the balance of aromas and flavours typical of coffee is preserved thanks to the exclusive Ultra Seal technology which, by exploiting ultrasonic sealing, allows perfectly hermetic and resistant degassing valves to be applied while giving the pouches a clean and elegant appearance.
The packages produced can be customised through the installation of accessories such as the printer for applying barcode, batch and expiry date and the labeller for affixing additional graphic elements and details on top of the film.
The line also offers the possibility of using eco-sustainable packaging, made of mono-material, compostable film or recyclable paper, while maintaining the same level of performance in terms of package strength and seal. Comek, which has long been committed to this front, pays great attention to designing and building its packaging machines according to European Regulation 2019/1781 (energy efficiency) and compatibility with the use of biodegradable or compostable materials.
For more information on Comek technology contact us and visit the Comek website.