MacIntyre Chocolate Systems announces
Refiner Conche Next Generation
The Scottish company MacIntyre Chocolate Systems, part of HDM – Hamburg Dresdner Maschinenfabriken group, is a worldwide supplier of systems for the production and processing of cocoa and chocolate.
The company is renowned as the creator of the first universal conche refiner, a unique machine capable of pre-mixing, refining and conching in a single solution. Developing new, practical and innovative solutions, MacIntyre has re-engineered this market-leading system and designed the Next Generation Conche Refiner: a new standard for low maintenance, energy efficient batch production.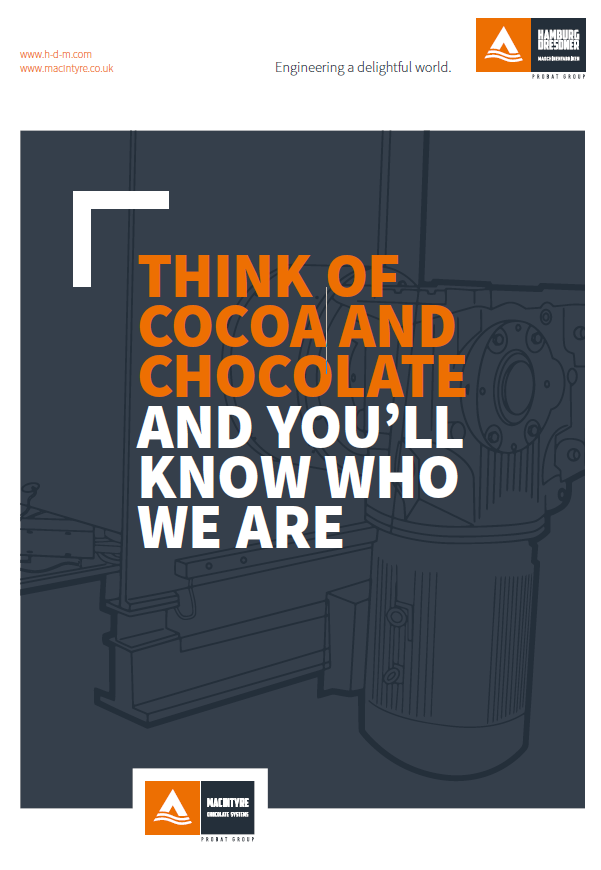 Low maintenance, more energy efficient refiner conche operation
The IE3 energy efficient motors have been incorporated and, with the aim of reducing maintenance, the long life air pressure seals have been introduced. This ensures more efficient operation for processing high quality pure chocolate, compounds, cremes, spreads, nut pastes and pralines.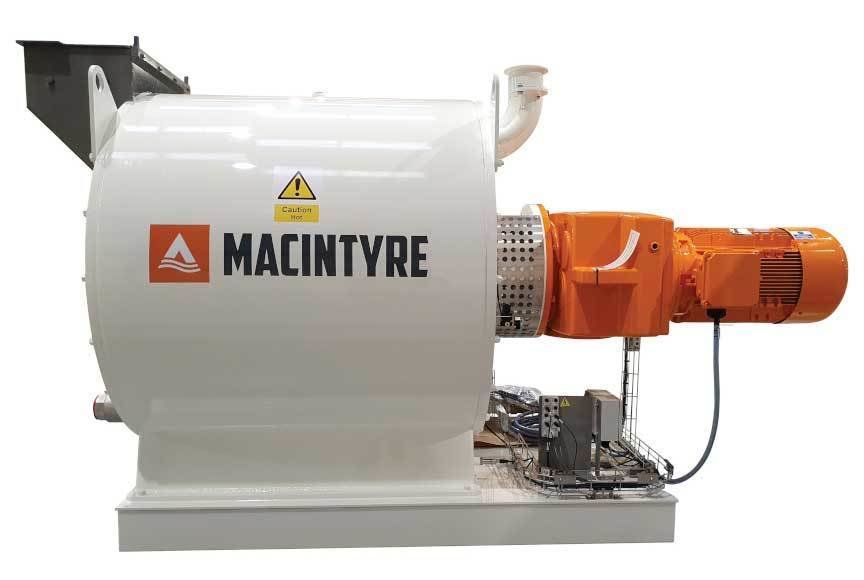 Easier Commissioning and Operation
The NEXT Generation Refiner/Conche is available in four capacities: 500, 1250, 2000 and 3000 kg, including 3000 kg and 5000 kg Duplex models. Removal of the glands and packing material gives the Refiner / Conche a more compact appearance, while the incorporation of a new spherical bearing, combined with IE3 energy efficient motors, mean more efficient running and enhanced surface contact.
All MacIntyre NEXT Generation Refiner / Conches are fitted with Siemens PLC control incorporating enhanced software for flexible running, including remote administration diagnostics, remote commissioning and remote service support, ideal for 4.0 Industry.
Sets New Low Maintenance and Energy Efficiency Benchmark
"The NEXT Generation Refiner / Conche sets a new benchmark in terms of low maintenance, energy efficiency and production efficacy for manufacturers wishing to produce high quality chocolate and confectionery products," says Joe Gorman, managing director, MacIntyre Chocolate Systems. "Maximum capacity with minimum energy consumption and zero unnecessary waste have been the guiding principles in the design of the NEXT Generation Refiner / Conche, maintaining its position as the premium method of chocolate processing."
The NEXT Generation Refiner / Conches feature a convenient removable, easy clean, stainless steel hopper. Steel end plates replace the old cast ends of the Refiner / Conches. Feed pipes are included for intake of liquid cocoa liquor, cocoa butter or fat, allowing customers to easily connect from their liquid raw material tanks to the Refiner / Conche. Complete systems from Block Melting through to final Storage can also be supplied inclusive of full automation. All new models benefit from the easy to install cable harnesses, hygienic cable trays and include safety features for easy installation.
Versatile Product Manufacture and Rework
The MacIntyre Refiner / Conche is the market leader for production of high quality pure chocolate, compounds, cremes, spreads, nut pastes and pralines. Increasingly this versatile machine is now being used for reworking products too; chocolate bars with nuts, crème filled bars, sugar coated lentils and chocolate covered nuts, all can be reworked in the MacIntyre Refiner/Conche.
Visit the website www.macintyre.co.uk and follow us on Linkedin
We are, of course, at your disposal for any further information.