History and future: the anniversaries of Houdijk Holland and Winkler und Dünnebier
Houdijk Holland, 100 years of history
Founded by Wijnand Houdijk in 1922 as a ship repair shop in Vlaardingen, Houdijk Holland has developed over time into an all-round machine builder and – since 1990 – has specialised in handling systems, becoming today a market leader in the supply of medium and high-capacity biscuit and cracker handling solutions, with installations worldwide.
According to the motto from Oven to Packaging, the company does not focus on complexity, but rather on the realisation of simple systems that are able to fulfil their function in the best possible way: to feed the product efficiently and effectively to the next step in the process. The less the product is handled, the higher its quality will be.
Houdijk is known for its equipment, handling systems, operating software and components. But there is another dimension that is just as important: what makes it so unique is the expertise it has acquired over the years. With Houdijk as a partner, even the most complex process will lead to optimised production: the company is constantly growing, with a strong focus on research and development, with the aim of presenting continuous innovations for a rapidly changing bakery industry.
Visit the new special website https://houdijk100.com/nl and discover 100 years of history. The new corporate video is also online  https://www.houdijk.com/2022/05/new-corporate-video/ .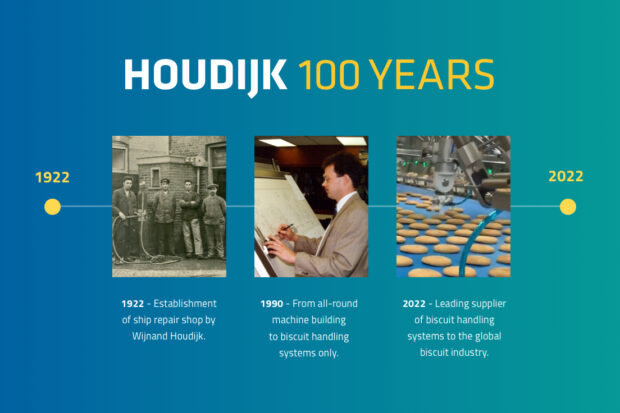 Winkler und Dünnebier, successful company development
As specialist in the manufacture of plants for deposited candies, Winkler und Dünnebier Süßwarenmaschinen GmbH, together with its sister company Maschinenbau Runkel GmbH, is synonymous with quality, innovation and tradition worldwide.
In 1913, Alfred Winkler and Max Dünnebier laid the foundations of today's company, which today is a success story: a modern, internationally present company that has developed from the smallest technical skills in the beginning.
Since 1997, it has been developing and producing plants at its site in Rengsdorf, in state-of-the-art production halls with around 10,000 m² of usable area. It develops, builds and produces storage systems for sugar and fat products, which form the heart of the mogul plants for the production of deposited candies.
WDS developments and patents continuously redefine the state of the art. In recent years, it has developed numerous new machine concepts and constantly expanded its well-known system technology, e.g. by developing new solutions for OTC (Over The Counter) active confectionery (https://www.opessi.it/prodotti-dolciari-otc-un-nuovo-mercato-per-winkler/). It is also involved, together with our representative Chocotech, in the CONNECT 3D Jelly project (https://www.opessi.it/wds-e-chocotech-sinergie-per-il-progetto-connect-3d-jelly/).
The tradition of the family business is still an integral part of the corporate culture today. In addition to the long-standing managing director Rainer Runkel, the third generation joined the management in 2021 with his daughter Jessica Runkel, so that the business will remain in family hands.